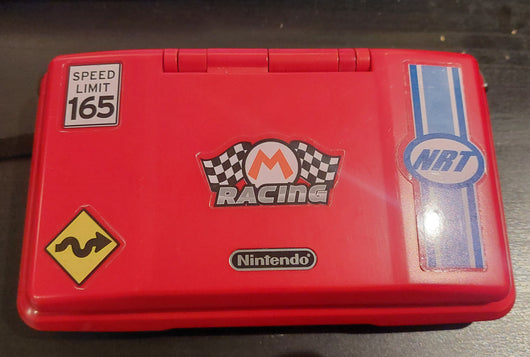 Original Nintendo DS Console (Mario Kart Edition)
Regular price €94.95 Sale
1 Original DS Console with USB charger cable.
The
Nintendo DS
 is a handheld game console
produced by Nintendo
, released globally across 2004 and 2005. The DS, an initialism
 for "Developers' System" or "Dual Screen",
 introduced distinctive new features to handheld games: two LCD
 screens working in tandem (the bottom one being a touchscreen
), a built-in microphone
 and support for wireless 
.
 Both screens are encompassed within a clamshell design similar
 to the Game Boy Advance SP
. The Nintendo DS also features the ability for multiple DS consoles to directly interact with each other over Wi-Fi within
 a short range without the need to connect to an existing wireless network. Alternatively, they could interact online using the now-defunct Nintendo Wi-Fi connection
 service. Its main competitor was Sony's Playstation Portable
 during the seventh generation of video game consoles.

Browse our full selection of Nintendo DS games here!


Did you know that the Original DS plays Game Boy Advance games?
Check out our full selection of Game Boy games
here!